More Ways to BBQ
Choose how you want to place your order with us!
What's for Lunch and Dinner?
Award-winning BBQ for the entire family.
View Menu ››
Fort Wayne's Best Catering
Providing the finest ingredients and quality service.
Explore Catering ››
Our Restaurants
Award winning BBQ, handcrafted Mad Anthony Brewing beer and a fun, modern atmosphere!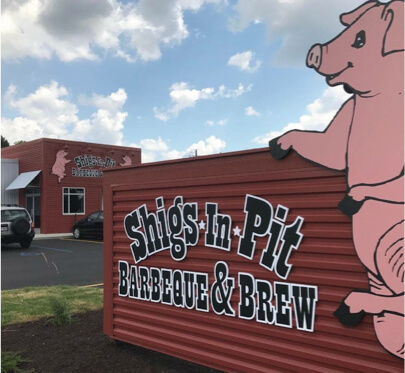 Shigs In Pit BBQ & Brew
6250 Maplecrest Road
Fort Wayne, IN 46835
View Location ››
Lent Specials
Shigs In Pit Lent Specials are available every Friday at our Illinois and Maplecrest Rd locations!
Menu
Brewed IN the Fort
Tickets are now on sale for Brewed IN the Fort Craft Beer Fest. Find tickets online at brewedinthefort.com or head to your favorite MABC or Shigs In Pit location. 2023 Mug Club Members can purchase a special Mug Club VIP ticket for the price of a General Admission ticket (limit 2 per member, available only in store).
Learn More & Buy Tickets
Shigs In Pit & Mad Anthony Catering
Find out what our Catering Team has to offer at shigsinpitcatering.com.
Shigs In Pit Catering
Bringing Award Winning BBQ to Indiana
Our goal is to provide the finest ingredients and quality service at a fair price. We have positioned ourselves to offer a wide variety of smoked meats and outstanding side dishes. Choose from casual or elegant buffets or let us customize a menu to fit your needs. We offer full bar service, linen service, and on-site staffing.
Ready to Order?
Mouthwatering championship style BBQ in the heart of Fort Wayne.